var jnews_ajax_url = '/?ajax-request=jnews' Amid Covid-19 vaccine hopes, will gold continue to give high returns in 2021? – Gold Mine Saloon- Complete Guide to Gold, Stocks, Mining, Investing and More {"@context":"https://schema.org","@graph":[{"@type":"WebSite","@id":"https://goldminesaloon.net/#website","url":"https://goldminesaloon.net/","name":"Gold Mine Saloon- Complete Guide to Gold, Stocks, Mining, Investing and More","description":"","potentialAction":[{"@type":"SearchAction","target":"https://goldminesaloon.net/?s={search_term_string}","query-input":"required name=search_term_string"}],"inLanguage":"en-US"},{"@type":"ImageObject","@id":"https://goldminesaloon.net/gold/amid-covid-19-vaccine-hopes-will-gold-continue-to-give-high-returns-in-2021/#primaryimage","inLanguage":"en-US","url":"https://goldminesaloon.net/wp-content/uploads/2021/01/gold.jpg","width":1200,"height":667},{"@type":"WebPage","@id":"https://goldminesaloon.net/gold/amid-covid-19-vaccine-hopes-will-gold-continue-to-give-high-returns-in-2021/#webpage","url":"https://goldminesaloon.net/gold/amid-covid-19-vaccine-hopes-will-gold-continue-to-give-high-returns-in-2021/","name":"Amid Covid-19 vaccine hopes, will gold continue to give high returns in 2021? – Gold Mine Saloon- Complete Guide to Gold, Stocks, Mining, Investing and More","isPartOf":{"@id":"https://goldminesaloon.net/#website"},"primaryImageOfPage":{"@id":"https://goldminesaloon.net/gold/amid-covid-19-vaccine-hopes-will-gold-continue-to-give-high-returns-in-2021/#primaryimage"},"datePublished":"2021-01-15T08:02:52+00:00″,"dateModified":"2021-01-15T08:02:52+00:00″,"author":{"@id":"https://goldminesaloon.net/#/schema/person/eec169375be20fdc748c95f28f3705ba"},"inLanguage":"en-US","potentialAction":[{"@type":"ReadAction","target":["https://goldminesaloon.net/gold/amid-covid-19-vaccine-hopes-will-gold-continue-to-give-high-returns-in-2021/"]}]},{"@type":"Person","@id":"https://goldminesaloon.net/#/schema/person/eec169375be20fdc748c95f28f3705ba","name":"admin","image":{"@type":"ImageObject","@id":"https://goldminesaloon.net/#personlogo","inLanguage":"en-US","url":"https://secure.gravatar.com/avatar/985aef0c8ce70d9ae289cc99f3c19840?s=96&d=mm&r=g","caption":"admin"},"sameAs":["https://goldminesaloon.net/wp"]}]} {"@context":"http://schema.org","@type":"Organization","@id":"https://goldminesaloon.net/#organization","url":"https://goldminesaloon.net/","name":"","logo":{"@type":"ImageObject","url":""},"sameAs":["https://www.facebook.com/jegtheme/","https://twitter.com/jegtheme","https://plus.google.com/+Jegtheme","https://www.linkedin.com/"]} {"@context":"http://schema.org","@type":"WebSite","@id":"https://goldminesaloon.net/#website","url":"https://goldminesaloon.net/","name":"","potentialAction":{"@type":"SearchAction","target":"https://goldminesaloon.net/?s={search_term_string}","query-input":"required name=search_term_string"}} a,.jeg_menu_style_5 > li > a:hover,.jeg_menu_style_5 > li.sfHover > a,.jeg_menu_style_5 > li.current-menu-item > a,.jeg_menu_style_5 > li.current-menu-ancestor > a,.jeg_navbar .jeg_menu:not(.jeg_main_menu) > li > a:hover,.jeg_midbar .jeg_menu:not(.jeg_main_menu) > li > a:hover,.jeg_side_tabs li.active,.jeg_block_heading_5 strong,.jeg_block_heading_6 strong,.jeg_block_heading_7 strong,.jeg_block_heading_8 strong,.jeg_subcat_list li a:hover,.jeg_subcat_list li button:hover,.jeg_pl_lg_7 .jeg_thumb .jeg_post_category a,.jeg_pl_xs_2:before,.jeg_pl_xs_4 .jeg_postblock_content:before,.jeg_postblock .jeg_post_title a:hover,.jeg_hero_style_6 .jeg_post_title a:hover,.jeg_sidefeed .jeg_pl_xs_3 .jeg_post_title a:hover,.widget_jnews_popular .jeg_post_title a:hover,.jeg_meta_author a,.widget_archive li a:hover,.widget_pages li a:hover,.widget_meta li a:hover,.widget_recent_entries li a:hover,.widget_rss li a:hover,.widget_rss cite,.widget_categories li a:hover,.widget_categories li.current-cat > a,#breadcrumbs a:hover,.jeg_share_count .counts,.commentlist .bypostauthor > .comment-body > .comment-author > .fn,span.required,.jeg_review_title,.bestprice .price,.authorlink a:hover,.jeg_vertical_playlist .jeg_video_playlist_play_icon,.jeg_vertical_playlist .jeg_video_playlist_item.active .jeg_video_playlist_thumbnail:before,.jeg_horizontal_playlist .jeg_video_playlist_play,.woocommerce li.product .pricegroup .button,.widget_display_forums li a:hover,.widget_display_topics li:before,.widget_display_replies li:before,.widget_display_views li:before,.bbp-breadcrumb a:hover,.jeg_mobile_menu li.sfHover > a,.jeg_mobile_menu li a:hover,.split-template-6 .pagenum { color : #fcb11e; } .jeg_menu_style_1 > li > a:before,.jeg_menu_style_2 > li > a:before,.jeg_menu_style_3 > li > a:before,.jeg_side_toggle,.jeg_slide_caption .jeg_post_category a,.jeg_slider_type_1 .owl-nav .owl-next,.jeg_block_heading_1 .jeg_block_title span,.jeg_block_heading_2 .jeg_block_title span,.jeg_block_heading_3,.jeg_block_heading_4 .jeg_block_title span,.jeg_block_heading_6:after,.jeg_pl_lg_box .jeg_post_category a,.jeg_pl_md_box .jeg_post_category a,.jeg_readmore:hover,.jeg_thumb .jeg_post_category a,.jeg_block_loadmore a:hover, .jeg_postblock.alt .jeg_block_loadmore a:hover,.jeg_block_loadmore a.active,.jeg_postblock_carousel_2 .jeg_post_category a,.jeg_heroblock .jeg_post_category a,.jeg_pagenav_1 .page_number.active,.jeg_pagenav_1 .page_number.active:hover,input[type="submit"],.btn,.button,.widget_tag_cloud a:hover,.popularpost_item:hover .jeg_post_title a:before,.jeg_splitpost_4 .page_nav,.jeg_splitpost_5 .page_nav,.jeg_post_via a:hover,.jeg_post_source a:hover,.jeg_post_tags a:hover,.comment-reply-title small a:before,.comment-reply-title small a:after,.jeg_storelist .productlink,.authorlink li.active a:before,.jeg_footer.dark .socials_widget:not(.nobg) a:hover .fa,.jeg_breakingnews_title,.jeg_overlay_slider_bottom.owl-carousel .owl-nav div,.jeg_overlay_slider_bottom.owl-carousel .owl-nav div:hover,.jeg_vertical_playlist .jeg_video_playlist_current,.woocommerce span.onsale,.woocommerce #respond input#submit:hover,.woocommerce a.button:hover,.woocommerce button.button:hover,.woocommerce input.button:hover,.woocommerce #respond input#submit.alt,.woocommerce a.button.alt,.woocommerce button.button.alt,.woocommerce input.button.alt,.jeg_popup_post .caption,.jeg_footer.dark input[type="submit"],.jeg_footer.dark .btn,.jeg_footer.dark .button,.footer_widget.widget_tag_cloud a:hover, .jeg_inner_content .content-inner .jeg_post_category a:hover, #buddypress .standard-form button, #buddypress a.button, #buddypress input[type="submit"], #buddypress input[type="button"], #buddypress input[type="reset"], #buddypress ul.button-nav li a, #buddypress .generic-button a, #buddypress .generic-button button, #buddypress .comment-reply-link, #buddypress a.bp-title-button, #buddypress.buddypress-wrap .members-list li .user-update .activity-read-more a, div#buddypress .standard-form button:hover,div#buddypress a.button:hover,div#buddypress input[type="submit"]:hover,div#buddypress input[type="button"]:hover,div#buddypress input[type="reset"]:hover,div#buddypress ul.button-nav li a:hover,div#buddypress .generic-button a:hover,div#buddypress .generic-button button:hover,div#buddypress .comment-reply-link:hover,div#buddypress a.bp-title-button:hover,div#buddypress.buddypress-wrap .members-list li .user-update .activity-read-more a:hover, #buddypress #item-nav .item-list-tabs ul li a:before, .jeg_inner_content .jeg_meta_container .follow-wrapper a { background-color : #fcb11e; } .jeg_block_heading_7 .jeg_block_title span, .jeg_readmore:hover, .jeg_block_loadmore a:hover, .jeg_block_loadmore a.active, .jeg_pagenav_1 .page_number.active, .jeg_pagenav_1 .page_number.active:hover, .jeg_pagenav_3 .page_number:hover, .jeg_prevnext_post a:hover h3, .jeg_overlay_slider .jeg_post_category, .jeg_sidefeed .jeg_post.active, .jeg_vertical_playlist.jeg_vertical_playlist .jeg_video_playlist_item.active .jeg_video_playlist_thumbnail img, .jeg_horizontal_playlist .jeg_video_playlist_item.active { border-color : #fcb11e; } .jeg_tabpost_nav li.active, .woocommerce div.product .woocommerce-tabs ul.tabs li.active { border-bottom-color : #fcb11e; } .jeg_topbar, .jeg_topbar.dark, .jeg_topbar.custom { background : #191818; } .jeg_topbar, .jeg_topbar.dark { color : #9e9e9e; border-top-width : 0px; border-top-color : #fcb11e; } .jeg_topbar a, .jeg_topbar.dark a { color : #ffffff; } .jeg_midbar, .jeg_midbar.dark { background-color : #191818; } .jeg_header .jeg_bottombar.jeg_navbar_wrapper:not(.jeg_navbar_boxed), .jeg_header .jeg_bottombar.jeg_navbar_boxed .jeg_nav_row { background : #2d2d2b; } .jeg_header .jeg_bottombar, .jeg_header .jeg_bottombar.jeg_navbar_dark, .jeg_bottombar.jeg_navbar_boxed .jeg_nav_row, .jeg_bottombar.jeg_navbar_dark.jeg_navbar_boxed .jeg_nav_row { border-bottom-width : 0px; } .jeg_stickybar, .jeg_stickybar.dark { border-bottom-width : 0px; } .jeg_header .socials_widget > a > i.fa:before { color : #9e9e9e; } .jeg_header .jeg_search_wrapper.search_icon .jeg_search_toggle { color : #ffffff; } .jeg_nav_search { width : 100%; } .jeg_header .jeg_search_no_expand .jeg_search_form .jeg_search_input { background-color : #ffffff; } .jeg_header .jeg_search_no_expand .jeg_search_form button.jeg_search_button { color : #191818; } .jeg_header .jeg_search_wrapper.jeg_search_no_expand .jeg_search_form .jeg_search_input { color : #191818; } .jeg_header .jeg_search_no_expand .jeg_search_form .jeg_search_input::-webkit-input-placeholder { color : rgba(25,24,24,0.65); } .jeg_header .jeg_search_no_expand .jeg_search_form .jeg_search_input:-moz-placeholder { color : rgba(25,24,24,0.65); } .jeg_header .jeg_search_no_expand .jeg_search_form .jeg_search_input::-moz-placeholder { color : rgba(25,24,24,0.65); } .jeg_header .jeg_search_no_expand .jeg_search_form .jeg_search_input:-ms-input-placeholder { color : rgba(25,24,24,0.65); } .jeg_header .jeg_menu.jeg_main_menu > li > a { color : #ffffff; } .jeg_header .jeg_menu_style_4 > li > a:hover, .jeg_header .jeg_menu_style_4 > li.sfHover > a, .jeg_header .jeg_menu_style_4 > li.current-menu-item > a, .jeg_header .jeg_menu_style_4 > li.current-menu-ancestor > a, .jeg_navbar_dark .jeg_menu_style_4 > li > a:hover, .jeg_navbar_dark .jeg_menu_style_4 > li.sfHover > a, .jeg_navbar_dark .jeg_menu_style_4 > li.current-menu-item > a, .jeg_navbar_dark .jeg_menu_style_4 > li.current-menu-ancestor > a { background : #fcb11e; } .jeg_header .jeg_menu.jeg_main_menu > li > a:hover, .jeg_header .jeg_menu.jeg_main_menu > li.sfHover > a, .jeg_header .jeg_menu.jeg_main_menu > li > .sf-with-ul:hover:after, .jeg_header .jeg_menu.jeg_main_menu > li.sfHover > .sf-with-ul:after, .jeg_header .jeg_menu_style_4 > li.current-menu-item > a, .jeg_header .jeg_menu_style_4 > li.current-menu-ancestor > a, .jeg_header .jeg_menu_style_5 > li.current-menu-item > a, .jeg_header .jeg_menu_style_5 > li.current-menu-ancestor > a { color : #191818; } .jeg_navbar_wrapper .sf-arrows .sf-with-ul:after { color : rgba(0,0,0,0.4); } .jeg_footer_content,.jeg_footer.dark .jeg_footer_content { background-color : #191818; } .jeg_menu_footer a,.jeg_footer.dark .jeg_menu_footer a,.jeg_footer_sidecontent .jeg_footer_primary .col-md-7 .jeg_menu_footer a { color : #ffffff; } .jeg_menu_footer a:hover,.jeg_footer.dark .jeg_menu_footer a:hover,.jeg_footer_sidecontent .jeg_footer_primary .col-md-7 .jeg_menu_footer a:hover { color : #fcd15b; } body,input,textarea,select,.chosen-container-single .chosen-single,.btn,.button { font-family: "Open Sans",Helvetica,Arial,sans-serif; } .jeg_thumb .jeg_post_category a,.jeg_pl_lg_box .jeg_post_category a,.jeg_pl_md_box .jeg_post_category a,.jeg_postblock_carousel_2 .jeg_post_category a,.jeg_heroblock .jeg_post_category a,.jeg_slide_caption .jeg_post_category a { color : #191818; }.no_thumbnail .jeg_thumb,.thumbnail-container.no_thumbnail { display: none !important;}.jeg_search_result .jeg_pl_xs_3.no_thumbnail .jeg_postblock_content,.jeg_sidefeed .jeg_pl_xs_3.no_thumbnail .jeg_postblock_content,.jeg_pl_sm.no_thumbnail .jeg_postblock_content { margin-left: 0;}.jeg_postblock_11 .no_thumbnail .jeg_postblock_content,.jeg_postblock_12 .no_thumbnail .jeg_postblock_content,.jeg_postblock_12.jeg_col_3o3 .no_thumbnail .jeg_postblock_content { margin-top: 0;}.jeg_postblock_15 .jeg_pl_md_box.no_thumbnail .jeg_postblock_content,.jeg_postblock_19 .jeg_pl_md_box.no_thumbnail .jeg_postblock_content,.jeg_postblock_24 .jeg_pl_md_box.no_thumbnail .jeg_postblock_content,.jeg_sidefeed .jeg_pl_md_box .jeg_postblock_content { position: relative;}.jeg_postblock_carousel_2 .no_thumbnail .jeg_post_title a,.jeg_postblock_carousel_2 .no_thumbnail .jeg_post_title a:hover,.jeg_postblock_carousel_2 .no_thumbnail .jeg_post_meta .fa { color: #212121 !important;}.vc_custom_1517813231908{padding-top: 60px !important;padding-bottom: 30px !important;background-color: #191818 !important;background-position: center;background-repeat: no-repeat !important;background-size: cover !important;}.vc_custom_1517805998640{margin-bottom: 0px !important;}.wpb_animate_when_almost_visible { opacity: 1; }
No Result View All Result
No Result View All Result Home Gold Amid Covid-19 vaccine hopes, will gold continue to give high returns in 2021?
by admin January 15, 2021 in Gold 0
189 SHARES1.5k VIEWS Share on Facebook Share on Twitter
Gold glittered as by no means earlier than in 2020 and hit an all-time excessive of round Rs 58,000 per 10 grams. It gave most returns to buyers, its surge largely aided by the financial slowdown internationally induced by the pandemic and surplus liquidity within the system. With vaccination set to start on January 16, which is able to possible put livelihoods and the economic system on the quick observe to normalcy, will gold beat different funding avenues like shares and actual property and provides the identical fabulous returns of 30%-plus as in 2021?
How a lot did gold acquire in 2020?
Gold (.999 grade) rose from Rs 39,119 per 10 grams on January 1, 2020 to a excessive over Rs 58,000 earlier than closing at Rs 50,123 on December 31, an increase of 28% since December 2020. This implies a purchaser who purchased 100 grams for Rs 3.91 lakh to start with of 2020 made a revenue of over Rs 1.1 lakh in a 12 months. Within the worldwide market, gold surged to a document excessive of close to $2080 per ounce in August 2020; its present degree $1840.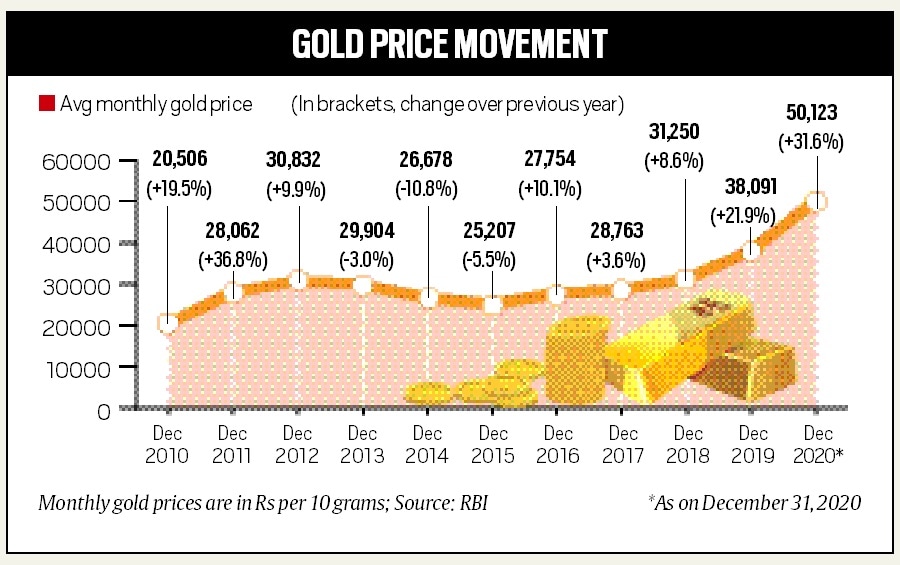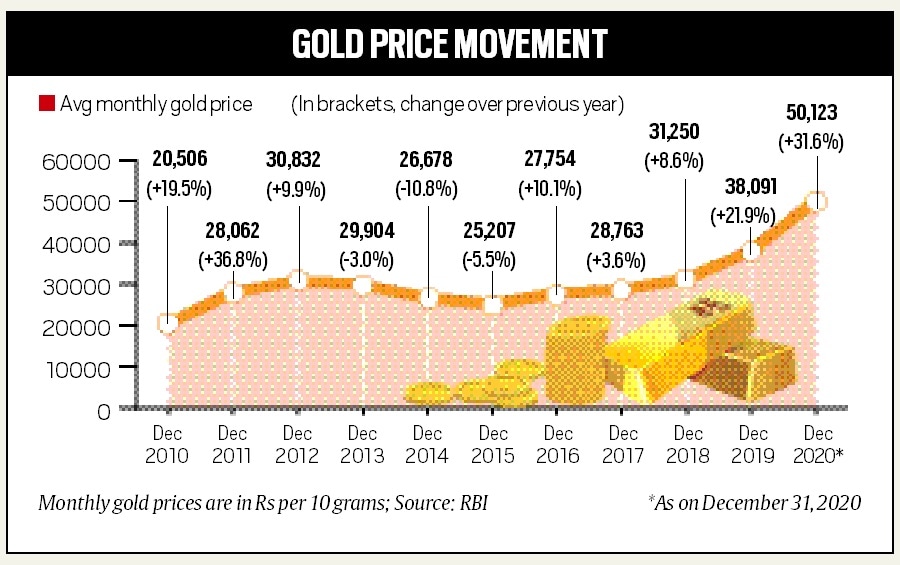 Supply: RBI
Gold costs have been rising for the previous couple of years and picked up tempo in 2020 owing to Covid-19. The 28% progress got here on the again of a powerful 22% progress in 2019.
By way of returns, how does gold evaluate with shares and actual property?
Contemplating that the one -year financial institution deposit price is at 4.5-5%, gold has turned out to be a safer haven for buyers. However, actual property costs didn't provide any beneficial properties. "The annual progress (y-o-y) in all-India Residence Worth Index (HPI) continued to average; it stood at 1.1 per cent in Q2 of 2020-21 as in contrast with 2.8 per cent progress in earlier quarter and three.3 per cent a 12 months in the past," the Reserve Financial institution of India stated. "Gold has given the very best return amongst all asset lessons in 2020. It supplied higher returns than shares and actual property. When in comparison with gold, BSE Sensex gave a return of 15.75% within the bygone 12 months," stated veteran inventory seller Pawan Dharnidharka.
What's the worldwide state of affairs?
Gold costs in India are influenced by the worldwide development. "The escalating virus state of affairs is proving to be a problem for the worldwide financial restoration. Other than this, decrease rates of interest worldwide and the US greenback's downtrend may show optimistic for the yellow metallic. At the moment gold spot is flirting close to $1,900 per ounce. A sustained break could be seen in 2021, which could push the costs to $1,980 per ounce after which $2,050 per ounce," stated Ravindra Rao, VP and Head of Commodity Analysis, Kotak Securities.
The large query is: will the gold rally proceed in 2021? Main central banks have decreased their rate of interest to nearly zero per cent and will stay at these ranges for not less than one 12 months or so. Central banks have additionally taken an aggressive stance offering liquidity available in the market. "All of the actions taken may have a spill-over impact on the economic system, therefore supporting the dear metallic costs. The big liquidity push by central banks internationally goes to (underpin) elementary assist for continuation of gold power," Damani stated.
? JOIN NOW ?: The Express Explained Telegram Channel
How is the gold demand in India?
Curiously, gold demand in India confirmed a distinction throughout 2020. The whole jewelry demand decreased by 48% to 52.8 tonnes within the September quarter in comparison with 101.6 tonnes in the identical quarter final 12 months. This was largely because of the rise in costs and lockdown. Nonetheless, whole funding demand throughout the third quarter surged by 52% to 33.8 tonnes in comparison with 22.3 tonnes in the identical interval of 2019 as buyers accrued gold. Stimulus measures have created extra liquidity available in the market and there are expectations of an extra stimulus being introduced by the US, which is able to increase bullion costs additional. Additionally, analysts stated, ambiguity associated to current developments on Covid vaccines is supporting the gold rally.
What do vaccine hopes augur for gold?
As of now, nearly everyone seems to be pinning their hopes on the vaccine and anticipating their lives will return to normalcy in 2021. Whereas that hope has resulted in some correction in gold costs, there are various who really feel 2021 is not going to be as clean as many others count on it to be. The tempo and success of vaccination programmes internationally will maintain the important thing; if there are hiccups, gold will stay on a excessive.
"For all of the hope spurred by the breakthroughs on the vaccine entrance, we imagine that the majority of 2021 shall be a bumpy journey from vaccine to vaccination. The event of Covid-19 vaccines in a document time of some months is commendable. However manufacturing and distribution to immunise a majority of the 7.8 billion world inhabitants is an costly and prolonged train. And though the vaccine will slowly and steadily tackle the well being disaster, the world nonetheless has an financial disaster to take care of," stated Chirag Mehta, senior fund manager-Different Investments, Quantum AMC.
So, gold costs will stay bullish in 2021 too?
Gold is poised for one more rally in 2021. Analysts forecast costs may rise by one other 25% and check the Rs 65,000 degree (per 10 grams). "We proceed to keep up our bullish view for the long-term perspective. On Comex, going into 2021, the worth is anticipated to increase its bullishness to check a contemporary all-time excessive degree of $2400-2500. Whereas on the home entrance, the worth is prone to prolong its beneficial properties by an additional 25% and check Rs 65,000-68,000 degree," stated Navneet Damani, Vice President, Commodities Analysis, Motilal Oswal Monetary Providers.
"Gold and silver costs have had a very good run because the begin for 2020 with over 40% beneficial properties in gold and 70% beneficial properties in silver at one level. With some intermediate correction just lately, the surplus froth has been taken off and gold is preparing as soon as once more for a subsequent spherical of upside for 2021," he stated.
Mehta stated that whereas the preliminary upward transfer shall be pushed by further fiscal stimulus from the US authorities, different elements shall be an enhancing funding demand in addition to client demand from India and China.
"The continued optimism on the financial restoration and surging threat property may very well be a headwind for gold that might restrict its rise. Nonetheless, the very fact stays that the financial rebound has been dropping steam… When the liquidity-led momentum recedes and markets begin reflecting floor actuality, gold ought to reprice on again of constructive fundamentals," Mehta stated.
There's additionally a sense that with rates of interest prone to stay low in developed economies, gold will change into a extra viable holding possibility than US Treasury bonds.
One other issue is geopolitical tensions world wide, together with US-China relations and India China relations. "… Tensions between the most important economies appear unlikely to de-escalate within the close to future… The ensuing uncertainty in fairness, credit score and foreign money markets will set off a risk-off sentiment. It will push up funding demand for comparatively safer options like gold," Mehta stated.
Related articles
March 2, 2021
March 1, 2021 var jnews_module_1945_1_603dcc746dadb = {"header_icon":"","first_title":"Related articles","second_title":"","url":"","header_type":"heading_7″,"header_background":"","header_secondary_background":"","header_text_color":"","header_line_color":"","header_accent_color":"","header_filter_category":"","header_filter_author":"","header_filter_tag":"","header_filter_text":"All","post_type":"post","content_type":"all","number_post":"2″,"post_offset":0,"unique_content":"disable","include_post":"","exclude_post":1945,"include_category":"25″,"exclude_category":"","include_author":"","include_tag":"","exclude_tag":"","sort_by":"latest","date_format":"default","date_format_custom":"Y/m/d","force_normal_image_load":"","pagination_mode":"disable","pagination_nextprev_showtext":"","pagination_number_post":"2″,"pagination_scroll_limit":0,"boxed":"","boxed_shadow":"","el_id":"","el_class":"","scheme":"","column_width":"auto","title_color":"","accent_color":"","alt_color":"","excerpt_color":"","css":"","paged":1,"column_class":"jeg_col_2o3″,"class":"jnews_block_21″}; Share76 Tweet47
Related Posts
by admin March 2, 2021 0
Ahmedabad:The decline in gold costs following the discount in fundamental customs responsibility (BCD) on gold after the Union funds…
by admin March 1, 2021 0
Editor's Note: With so much market volatility, stay on top of daily news! Get caught up in minutes…
by admin March 1, 2021 0
https://www.youtube.com/watch?v=ezFXCUni-ak (Kitco News) – Gold has held a powerful relationship with inflation expectations however extra importantly, gold tracks actual…
by admin March 1, 2021 0
Editor's Note: With so much market volatility, stay on top of daily news! Get caught up in minutes…
by admin March 1, 2021 0
NEW YORK, March 1, 2021 /PRNewswire/ — The gold market is as soon as once more heating up because the…
Load More var jnews_module_1945_2_603dcc746fbbd = {"header_icon":"","first_title":"Related","second_title":" Posts","url":"","header_type":"heading_7″,"header_background":"","header_secondary_background":"","header_text_color":"","header_line_color":"","header_accent_color":"","header_filter_category":"","header_filter_author":"","header_filter_tag":"","header_filter_text":"All","post_type":"post","content_type":"all","number_post":"5″,"post_offset":0,"unique_content":"disable","include_post":"","exclude_post":1945,"include_category":"25″,"exclude_category":"","include_author":"","include_tag":"","exclude_tag":"","sort_by":"latest","date_format":"default","date_format_custom":"Y/m/d","excerpt_length":20,"excerpt_ellipsis":"…","force_normal_image_load":"","pagination_mode":"loadmore","pagination_nextprev_showtext":"","pagination_number_post":"5″,"pagination_scroll_limit":3,"ads_type":"disable","ads_position":1,"ads_random":"","ads_image":"","ads_image_tablet":"","ads_image_phone":"","ads_image_link":"","ads_image_alt":"","ads_image_new_tab":"","google_publisher_id":"","google_slot_id":"","google_desktop":"auto","google_tab":"auto","google_phone":"auto","content":"","ads_bottom_text":"","boxed":"","boxed_shadow":"","el_id":"","el_class":"","scheme":"","column_width":"auto","title_color":"","accent_color":"","alt_color":"","excerpt_color":"","css":"","paged":1,"column_class":"jeg_col_2o3″,"class":"jnews_block_3″};
February 11, 2021
January 20, 2021
February 1, 2021
January 24, 2021
0
0
0
0
March 2, 2021
March 2, 2021
March 2, 2021 .jeg_footer .jnews_603dcc74845ef .widget h2, .jeg_footer .jnews_603dcc74845ef.footer_light .jeg_footer_heading h3, .jnews_603dcc74845ef.footer_dark .jeg_footer_heading h3 { color : #fcbf46; } .jeg_footer .jnews_603dcc74845ef input[type="submit"], .jeg_footer .jnews_603dcc74845ef .btn, .jeg_footer .jnews_603dcc74845ef .button { background-color : #fcb11e; }